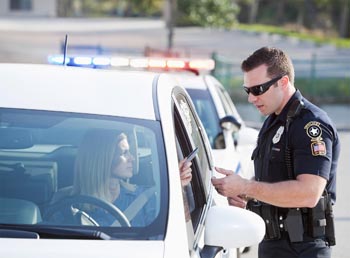 Your Guide to a First-Time Speeding Ticket
It is rare for anyone to go their entire life without getting a speeding ticket.
The first speeding ticket can be a scary experience for some drivers. Drivers who have taken a driver's education program recently may be aware of the possible fines and/or points. But, more experienced drivers pulled over for the first time could be less aware of all the possible penalties.
The following outlines what a driver should do when they get their first speeding ticket in NY. If you are unsure of what to do, you can always consult with an experienced traffic lawyer.
1. You've been pulled over. What to do during the traffic stop:
Stay calm. Getting pulled over is a scary thing. Most of us have seen what the worst possible scenario is and we do not want that to happen.
Take a deep breath, roll your window down, and be polite to the police officer. Remember, they are responsible for keeping you and other drivers safe. They are doing their job.
The police officer will request your driver's license and vehicle registration. They may also ask if you know why you were pulled over for this traffic stop.
Never Admit to Speeding or Violating a Law
Admitting wrongdoing could be used against you in court.
Be cooperative with the police officer and don't admit or acknowledge any wrongdoing.
2. You received a traffic ticket; now what?
Review the information on the ticket. There is a lot of information on a New York State traffic violation ticket, including information about the driver, vehicle, violation details, court information, and how to enter a plea of guilty or not guilty.
The most crucial detail is the date that you have to respond by. Failure to respond to a speeding ticket on time has its own penalties.
Take a few minutes to write down as much information about the traffic stop as possible. Including the time of day, weather, visibility, where the speed limit sign was, how much traffic there was, and anything else you can remember about the conditions and the conversation with the police officer.
3. Contact an experienced attorney to help you.
Most drivers ask friends and family for advice about a speeding ticket. The assumption by most is that the first speeding ticket is not a big deal, and because it's your first offense, it's likely to be dismissed or reduced.
This is a huge mistake!
Your first-time speeding ticket could increase your insurance rates by up to 20%!
No driver should pay a first-time speeding ticket or go to court assuming that the charges will be reduced or dismissed. Call an attorney as soon as possible to decide what course of action to take.
Jonathan D. Katz is an experienced and local attorney who knows the process and how to mitigate or eliminate penalties.
Can't I just pay it and forget it?
Simply paying your speeding ticket doesn't make it go away. Paying a ticket is the same as pleading guilty or getting convicted.
The conviction goes on your record, and points will go on your license. This will increase insurance, and if you drive for a living, it can affect job security.
Remember, too many speeding tickets in an 18-month period can result in license suspension.
It is critical that every driver fight their speeding tickets in New York State.
Before you pay a traffic fine, contact us for your no-obligation, free consultation.